When?
Saturday 1 pm - 6 pm (check-in on the day of the tournament is possible BEFORE 1 pm, if you couldn't make it on Friday evening)
Where?
De Nekkerpool - Provinciaal Sport- en Recreatiecentrum De Nekker
Nekkerspoel-Borcht 19 (GPS: street name: Spuibeekstraat)
2800 Mechelen
Price ?
Admission fee (*) :
- 36 €
- 30 € (If registered and paid at latest for the 30th of June)
Brunch : 22 €
BGS Party : 11,50 € (14 € at the entrance)
Homestay – Hosted housing : 5 € per person
Accompanying person (lunch on Saturday with the sportswomen or sportsmen) : 7 € per person
(*) You will benefit from an automatic discount if you register AND pay BEFORE June 30th! Are included in the price: participation in the tournament, a bottle of water, fruits & snacks, a sandwich meal (only on Saturday) and the guided tour through Brussels on Sunday (booking is required). Hosted housing is possible (5 €) for visitors from abroad.
Contact Person:
Philippe swimming@brusselsgames.be
How to get there?
By car, from Brussels:
On the ring of Brussels (R0), at Machelen crossing, take the exit and the motorway E19 direction Mechelen-Antwerp;
On motorway E19, take the exit 10 Mechelen Zuid;
Continue on national road N1 to Mechelen centre;
At the junction with R12, take right;
Then turn right on N15, following 'De Nekker' signs;
On the left, you will see a concert hall. at the next red light, turn right on Spuibeekstraat;
The parking of the swimming pool is on the left.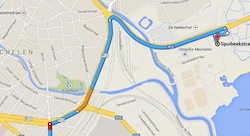 By train, from Brussels Midi (South), Central or North Station:
Take the train to the station 'Mechelen-Nekkerspoel' - Attention! There are two train stations in Mechelen. Pay attention to take a train that stops in 'Mechelen-Nekkerspoel';
Leave the station by the back entrance, and cross the Nekkerspoelstraat, you walk into a street called Lakenmakersstraat;
Continue alongside the water. When Lakenmakersstraat turns away from the water, continue on the towpath alongside the water until you have passed under the bridge of the express road N15;
You can now take the first street to the left (Douaneplein) and follow the N15 express road. Then you have to take the second street to the right to get to the entrance of 'De Nekker';
You can also take the second street after the bridge which is Spuibeekstraat, and which will bring you directly to the roundabout before the entrance of 'De Nekker'.
For detailed timetables, please have a look here.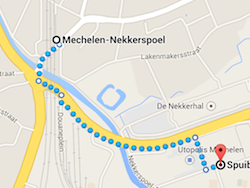 Contact person: Philippe